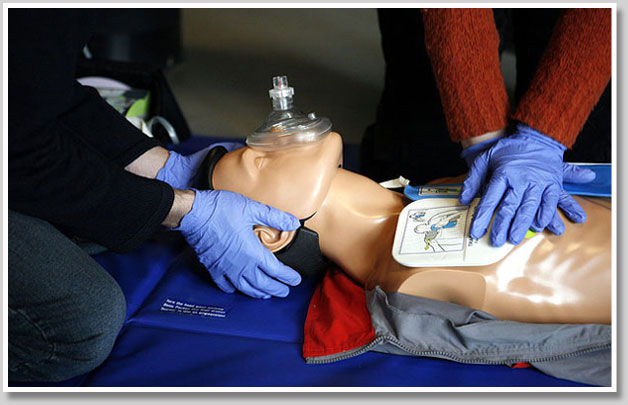 Our mission at North Mason Regional Fire Authority is to safeguard our North Mason Communities. An integral part of our commitment to this mission is our CPR Program, which includes three distinct course options. Please see below for additional information:
CPR Now
This one-hour class is designed to prepare citizens to perform bystander, compression only CPR. This class will be offered twice per year at no cost.
If you have a group of 15 or more who are interested in this class, please give us a call to schedule your own CPR Now class for $75.
Adult, Child and Infant First Aid/CPR/AED
UPCOMING CLASS: January 15th, 9:00 a.m. – 2:30 p.m. @ NMRFA Station 21, 460 NE Old Belfair Hwy
This course provides L&I and OSHA-approved First Aid, CPR and AED training for the community, meeting both daycare and L&I requirements. Each class is eight (8) hours long, begins at 9:00 a.m. and costs $35. The Fire Authority will be offering this course bi-monthly. If you have a group of ten (10) or more, please let us know so we can schedule a class for you.
2022: January 15th, March 19th, May 21st, July 16th, September 17th and November 19th
Heartsaver or BLS Provider
This course provides American Heart Association (AHA) certification. Please call for availability if you are needing AHA CPR certification.
For additional information regarding our CPR Program or to sign up for a class, please contact Administrative Assistant Sarah Morgan via email or telephone (360) 275-6711.
---
When CPR is administered right away, nearly 45 percent of cardiac arrest victims survive! With that said, we want the members of our community to feel comfortable performing bystander CPR, so that we can reduce the number of fatalities caused by cardiac arrest. Check out the video below which gives step-by-step instructions on how to perform bystander CPR. Although this video will not lead to a formal CPR certification, we hope that you and your loved ones take a few minutes to watch and learn how YOU can potentially save someone's life.
Thank you, Lieutenant Ryan Cloud for sharing all of this great information!