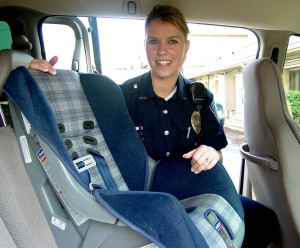 One of your most important jobs as a parent is to keep your child safe when riding in a vehicle. Each year, thousands of young children are injured or killed in car crashes. Proper use of car safety seats helps keep children safe. With so many safety seats on the market, it can be difficult to know which one is appropriate for your child.
The type of seat your child needs depends on several things including your child's age, size and the type of vehicle you have.
Types of car safety seats at a glance
The chart below is a quick guide to start your search. Once you've found the appropriate car safety seat for your child, it's important to continue your research to learn more about each seat you use. Additional information can be found by clicking on the following link: Car Seats – Information for Families.
Age
Type of Seat
General Guidelines
Infants and Toddlers
Rear-facing only

Rear-facing convertible

All infants should always ride rear-facing until they reach the highest weight or height allowed by their car seat manufacturer. Most convertible seats have limits that will allow children to ride rear facing for two (2) years or more.
Toddlers and Preschoolers
Forward-facing convertible

Forward-facing with harness

Children who have outgrown the rear-facing weight or height limit for their convertible seat should use a forward-facing seat with a harness for as long as possible, up to the highest weight or height allowed by their car seat manufacturer. Many seats can accommodate children up to 65 pounds or more.
School-Aged Children
Booster
All children whose weight or height exceeds the forward-facing limit for their car safety seat should use a belt-positioning booster seat until the vehicle seat belt fits properly, typically when they have reached 4 feet 9 inches in height and are 8 through 12 years of age. All children younger than 13 years should ride in the back seat.​ ​ ​
Older Children
Seat belts
When children are old enough and large enough for the vehicle seat belt to fit them correctly, they should always use lap and shoulder seat belts for the best protection. All children younger than 13 years should ride in the back seat.​
Car Seat Installation Information
Car safety seats may be installed with either the vehicle's seat belt or its LATCH (Lower Anchors and Tethers for Children) system. LATCH is an attachment system for car safety seats. Lower anchors can be used instead of the seat belt to install the seat, and many parents find them easier to use in some cars. The top tether improves safety provided by the seat and is important to use for all forward-facing seats, even those installed using the vehicle seat belt. Although the seat belt and LATCH systems are equally safe, caregivers may prefer one system instead of the other. Keep in mind that only one system should be used unless the car safety seat and vehicle manufacturer say it is acceptable to use two (2) systems at the same time.
Additional information can be found by clicking the following link: Car Seat Installation Information: Seat Belts and LATCH.
What you should know about air bags
All new cars come with front air bags. When used with seat belts, air bags work very well to protect teenagers and adults. However, air bags can be very dangerous to children, particularly those riding in rear-facing car safety seats and to child passengers who are not properly positioned. If your vehicle has a front passenger air bag, infants in rear-facing seats must ride in the back seat. Even in a relatively low-speed crash, the air bag can inflate, strike the car safety seat, and cause serious brain and neck injury and death.
Vehicles with no back seat or a back seat that is not made for passengers are not the best choice for traveling with small children. However, the air bag can be turned off in some of these vehicles, if the front seat is needed for a child passenger. See your vehicle owner's manual for more information.
If you need installation help
If you have questions or need help installing your car safety seat, find a certified CPS Technician. A list of certified CPS Technicians is available by state or ZIP code on the NHTSA website.
A list of inspection stations—where you can go to learn how to correctly install a car safety seat—is available in English and Spanish at www.seatcheck.org or toll-free at 866-SEATCHECK (866-732-8243). You can also get this information by calling the toll-free NHTSA Auto Safety Hotline at 888-DASH-2-DOT (888-327-4236) from 8:00 a.m. to 10:00 p.m. ET, Monday through Friday.
For more information please visit HealthyChildren.org
To see a list of local Child Safety Seat Technicians, visit NHTSA.gov (National Highway Traffic Safety Administration)