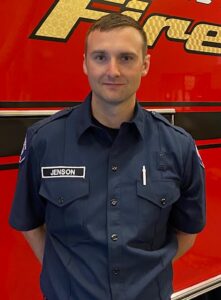 Firefighter/Paramedic – Zackary Jenson
Zackary Jenson was born in Federal Way and has lived in Mason County since 2005, currently residing in Allyn. After graduating from North Mason High School in 2011, Zack went on to EMT school in 2015. He earned an Associate of Arts degree from Olympic College, an Associate of Science in fire science from Columbia Southern University, and an Associate's in Applied Science and his Paramedic certification from Tacoma Community College. Zack began his career in the fire service as a volunteer in 2015, later transitioning to fulltime staff as an EMT/firefighter with Mason County Fire District 3 and working part time at Mason County Medic One. He enjoys being outside, running, hiking, kayaking and spending time with his family and dog Remy. Zack loves being able to help people in a variety of ways every day and being constantly challenged both physically and mentally.
---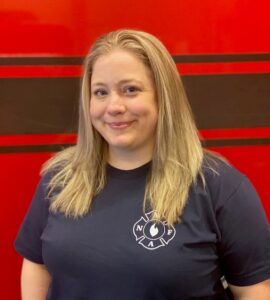 Firefighter/Paramedic – Danielle Stumpf
Danielle Stumpf was born and raised in Graham, graduating from Emerald Ridge High School in 2003. In 2004, she attended the Recruit Fire Academy with Graham Fire and Rescue and became a resident. Danielle graduated from EMT school in 2005 and attended Paramedic school at F-M Ambulance, accredited through Bismarck State College. She worked at Rural/Metro Ambulance in Tacoma from 2009 through 2019, and was a Paramedic and Field Training Officer for EMTs and Paramedics. Danielle then joined East Jefferson Fire Rescue as a Paramedic, where she worked for two years. She attended Grays Harbor Fire Academy in January 2021, and joined the North Mason Regional Fire Authority in May 2021. In 2014, she married her husband Jeremy and has three kids, Alyssa, Tyler and Brittney. As a family, they enjoy boating in the summer and traveling. Danielle enjoys working in EMS because every day you come to work it is something different.
---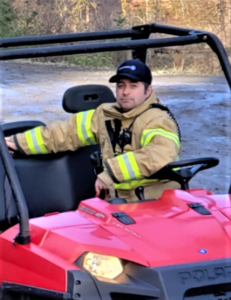 Firefighter/Paramedic – David Torvik
David Torvik grew up in Poulsbo, Washington and graduated from North Kitsap High School. He earned his Bachelor's Degree in Political Science at the University of Washington and attended Paramedic School at Central Washington University. David joined the North Mason Regional Fire Authority after eight years with South Beach Regional Fire Authority in Westport. When not serving the North Mason Community, David enjoys spending time with his wife, son James and daughter Leona.
---
Firefighter/Paramedic – Victor Quiroz
Victor Quiroz hails from the small village of Good Hope, Illinois, where he graduated high school in 2011. Upon completion of high school, Victor joined the Army active duty and was stationed in Fort Bragg, North Carolina. He completed two tours to Afghanistan before being honorably discharged in 2015. After leaving active duty, Victor made the bold decision to move to Ellensburg, Washington, to pursue a higher education. Victor graduated with honors from Central Washington University with a Bachelor's Degree, majoring in Law and Justice and minoring in Ethnic Studies. While earning his Bachelor's Degree, Victor took an EMT class through Kittitas County, where he was first introduced into the fire service. In August 2019, Victor moved to Belfair and began volunteering as a Resident at North Mason Regional Fire Authority, while also working part-time as an EMT for Olympic Ambulance. In January 2020, he attended the North Bend Fire Training Academy, and was hired as a Career Firefighter by the Fire Authority on June 1, 2020. In 2021, Victor began Paramedic School at Tacoma Community College, graduating in June 2022. He became a Paramedic with the Fire Authority in September 2022. Victor enjoys the outdoors and spending time with his family. He is proud to call Belfair his new home and looks forward to the many years of service he will provide to the North Mason Community.
---
Firefighter/Paramedic – Robert Collamore
Robert Collamore grew up in the nearby town of Wauna, WA and graduated from Peninsula High School. Following high school, Robert attended Central Washington University, where he earned a Bachelor of Science degree in Safety and Health Management and a Bachelor of Arts degree in Food Service Management. He began his fire/EMS career in Kittitas County, WA during college as a way to pay for school, and worked in Yakima on an ambulance and in Skykomish during the winter ski season. Shortly after college, Robert moved to Alaska on a whim, and worked as a fire claims adjuster on large-loss fires and as an EMS Coordinator for a small fire department. He later sold his house and belongings, in order to live in a van and travel around the United States. Robert finally moved back to Washington in 2017, after accepting the position of Community Outreach Coordinator with the North Mason Regional Fire Authority. In 2021, Robert began Paramedic School at Tacoma Community College, graduating in June 2022. He transitioned from Community Outreach Coordinator to Paramedic with the Fire Authority in November 2022.
Robert enjoys his career in the fire service because it is always something different, with new problems to solve and challenges to overcome on a daily basis. Also, who wouldn't want to drive a fire truck? His favorite hobby is vacation and he loves road trips and train rides. His new travel goal is to ride all eight of the world's longest train routes.
---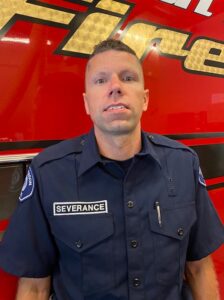 Firefighter/Paramedic – Kyle Severance
Kyle Severance was born and raised in Sparta, Michigan and moved to Washington in 2001. He attended North Beach High School in Ocean Shores and obtained his EMT certification from Grays Harbor EMS. Kyle also attended Tacoma Community College in 2015 and earned his Paramedic certificate and Associate of Applied Science in Emergency Health Management in 2017. Not knowing what he wanted to do for a career, Kyle joined Ocean Shores Fire Department as a volunteer and went to EMT school as his senior project. He quickly fell in love with medicine and knew it is what he wanted to do as a career, volunteering with OSFD from 2001 through 2006. He worked for American Medical Response from 2006 through 2020, East Jefferson Fire Rescue from 2019 to 2020, and joined the North Mason Regional Fire Authority in July 2020. Kyle has been married for a year to his husband and has a 15 year old son and two dogs. He is an avid snowmobiler and enjoys working in his garden. During the summer months, he spends his free time on the boat wakeboarding and inner tubing.
---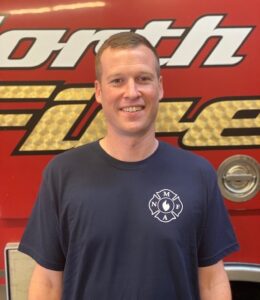 Firefighter/Paramedic – Travis Wilson
Travis Wilson grew up in Swansea, IL, a small town just east of St. Louis, MO. He was born there and raised by his parents and dogs, tormented by two brothers and coddled by his sister. After graduating from Belleville East H.S. in 2006, Travis went on to study at Illinois College, receiving a Bachelor of Science in Psychology with a minor in Sociology. While at Illinois College, he played all four years for the soccer team. During that time, he also interned at a large developmental center for impaired adults and worked as a high-risk youth mentor. After graduation, Travis spent time as a restaurant manager, youth soccer trainer, valet, bellman, doorman and property manager prior to discovering EMS and his calling as a firefighter. Travis worked as a paramedic for AMR in Tacoma for nearly two years before being hired at NMRFA, in May 2021. While at AMR, he was also a Field Training Officer for newly hired Paramedics and EMTs. Travis has always found the most joy in helping people and gaining valuable time and insight into people from all walks of life. He enjoys finding ways to help and connect with all. Once EMS and fire were introduced to him by his new brother-in-law, he was ecstatic to sign up for EMT school immediately, as he had finally found an adventurous avenue in which to help people while using his skills acquired from working face to face with many different people from varying backgrounds. In his free time, Travis enjoys spending time with his wife, Aspen, and two dogs Moab and Bodhi. They can often be found paddleboarding, hiking, camping and enjoying the outdoors of PNW. When at home, there is often music, games and dogs with the zoomies.